OUR
PRODUCTS
Minerals exported from our quarry are Bentonite, Zeolite and Pozollane.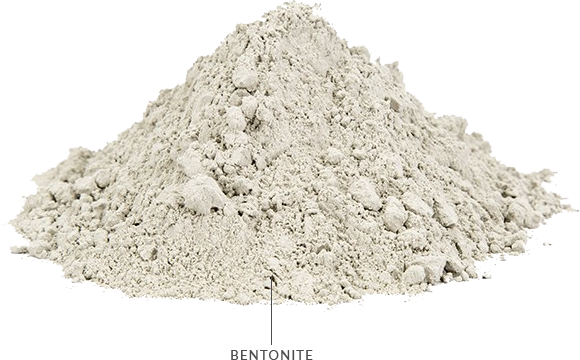 Bentonite
Bentonite is a type of plastic clay, coming from the lesion - conversion of the volcano ash. Consists from a group of minerals named smektikon and its main component is the montmorillonite mineral.
The name of bentonite comes from the location of Fort Benton, state of Wyoming in the United States of America, where it was first discovered.
Bentonites are used for decolorizing various mineral, vegetable, and animal oils. They are also used for clarifying wine, liquor, cider, beer, mead, and vinegar.
The main uses of bentonite are for drilling mud, binder (e.g. foundry-sand bond, iron ore pelletizer), purifier, absorbent (e.g. pet litter), and as a groundwater barrier. As of around 1990, almost half of the US production of bentonite was used for drilling mud.
Zeolite
Zeolite is a natural hydrated aluminosilicate ion exchange mineral with a dominant characteristic. This characteristic is the ability to bind other elements and whole compounds as well since it is one of the few negatively charged minerals in nature.
The name zeolite came from the ability that some mineral rocks have, to excrete the water they contain, when heated. This gives the impression that the mineral boils. Initially the name zeolite was given, in 1756 by the Swedish mineralogist Axel Fredrik Cronstedt who observed that during the rapid heating of the material stilviti, there were produced large amounts of steam, coming from water that had been adsorbed by the material.
The name "zeolite" comes from the Greek word "Zeo" meaning boil and "lithos" meaning stone.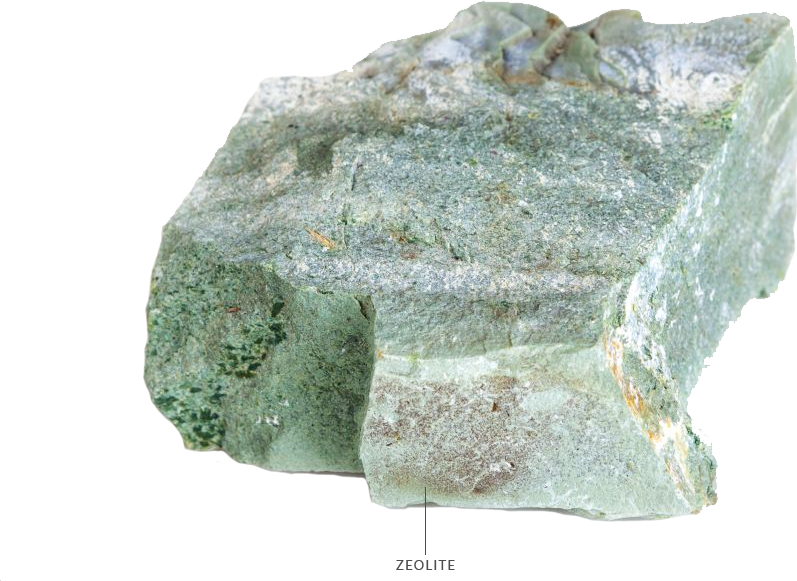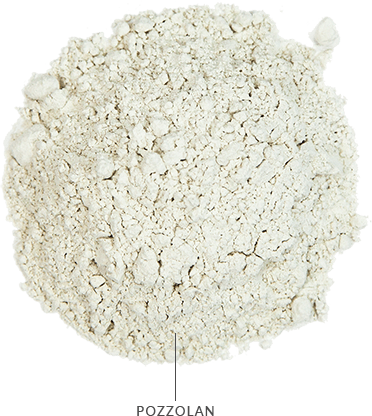 Pozzolan
Pozzolana or pozzuolana also known as pozzolanic ash is a natural siliceous or siliceous-aluminous material which reacts with calcium hydroxide in the presence of water at room temperature.
In this reaction insoluble calcium silicate hydrate and calcium aluminate hydrate compounds are formed possessing cementitious properties. The designation pozzolana is derived from one of the primary deposits of volcanic ash used by the Romans in Italy, at Pozzuoli. Nowadays the definition of pozzolana encompasses any volcanic material (pumice or volcanic ash), predominantly composed of fine volcanic glass, that is used as a pozzolan. Note the difference with the term pozzolan, which exerts no bearing on the specific origin of the material, as opposed to pozzolana, which can only be used for pozzolans of volcanic origin, primarily composed of volcanic glass.